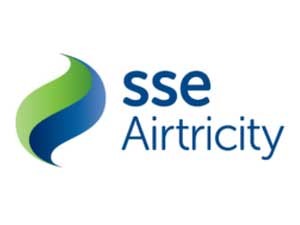 Background
In the Greater Belfast area at the end of 2014 SSE Airtricity Gas had around 123,000 customers which is around 72% of the domestic market.
Website: www.airtricitygasni.com
Customer Support: 0345 900 5253
Address: SSE Airtricity Gas (NI) Ltd, 17 Great Victoria Street, Belfast, BT2 7AQ
Customer Rating
Shortly this section will display the ratings provided by local consumers who have provided a reviews on Switchadvisor. In the meantime the results from WHICH are provided.
WHICH undertake an annual consumer survey looking how satisfied customers are with how they are treated. The 'five star' rating is considered over a range of service areas. The more stars a company has the better – one star is the worst and five stars the best. The latest scores for SSE Airtricity Electricity  are:
WHICH overall rating: 51%
Customer Service:
Value for Money:
Bill accuracy and clarity:
Complaint handling:
Helping to save energy:
SSE Airtricity Gas has low levels of complaints. In its 2013-2014 complaints the Consumer Council for Northern Ireland reported dealing with 3 complaints from their customers during the year.
SSE Airtricity Gas Tariffs
Click to View SSE Airtricity Gas Tariffs
| Tariff Name | Payment & billing method | Unit rate for first 2000KwH* | Unit rate for each kWh over 2000KwH* | Annual estimated cost** |
| --- | --- | --- | --- | --- |
| Pay as You Go (PAYG) tariff | Pay as You Go | 3.682p | 3.682p | £497 |
| Home Energy Tariff | Direct Debit & Paper Bills | 5.061p | 3.468p | £500(to include direct debit discount) |
| Home Energy Tariff | Any payment method except direct debit and paper bills | 5.061p | 3.468p | £500 |
* Inclusive of VAT at 5%
** Based on typical gas consumption of 13,500 kWh per year, and inclusive of VAT at 5%
Additional Information
Airtricity provide a range of methods to manage your account including website, e-billing and various payment methods.
 Critical Care Register
SSE Airtricity Gas Supply (Energy Care Scheme)
Telephone: 0345 900 5253
Minicom: 028 9055 5801
E-mail: info@airtricitygasni.com
Website:www.airtricitygasni.com
Address:Airtricity Gas (NI) Ltd PO Box 789, Belfast, BT3 9WA
| Support Provided | Further Information |
| --- | --- |
| Free Meter Move (to assist with reading meter by customer) | Provided on request to qualifying customers |
| Security Measures for home visits (Police check / password scheme) | Photo ID. Password Scheme |
| Ability to nominate person to look after billing / meter reads etc | Service provided to customers on register |
| Bills / Info / leaflets in alternative formats | Talking bills |
| Special controls & adaption for equipment (braille handi-plugs etc) | Provided on request to qualifying customers |
| Home appointments and request visit to read meter | Provided on request to qualifying customers |
| Free gas safety check or boiler service | Yes |
| Visit to read meters on request | Provided on request to qualifying customers |